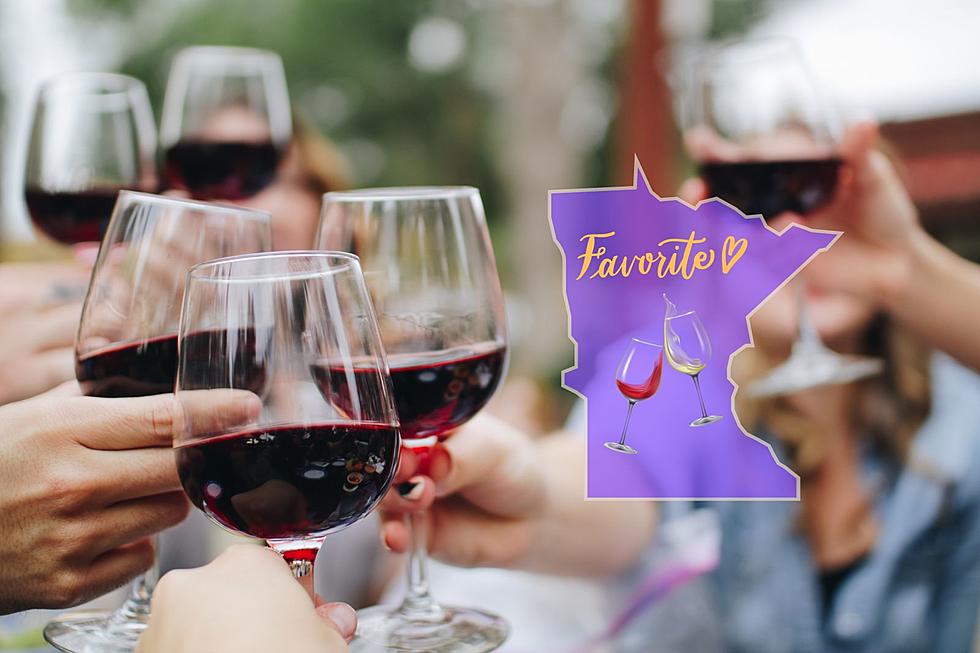 New Survey Just Unveiled Minnesota's Favorite Wine
Canva
If you love enjoying a glass of wine to unwind after a long day here in Minnesota, you're not alone. Wine continues to increase in popularity here in the Land of 10,000 Lakes and around the country. But which wine is our favorite here in the Bold North?
That's the question the number-crunchers over at The Shane Company set out to answer. And, what's better with a glass of wine than some cheese? In addition to identifying each state's favorite wine, this survey also took a look at which wine and cheese pairings were most popular in every state as well.
How did they do it? To come up with their results, The Shane Company used the following metrics:
To identify the top wine and cheese pairing in every U.S. state, we started with a list of 50 of the most popular wines and cheeses. From there, we analyzed Google Trends search volume from May 2022 to May 2023 for each wine and cheese individually. We then compared the data to map out each state's favorite wine and favorite cheese.
So what is Minnesota's favorite wine? According to The Shane Company, that would be a red blend. It's hard to argue with that, seeing as red blends are readily available, and produced by many wineries. But what exactly IS a red blend?
According to Liquor.com, the phrase 'red blend' refers to red wines that are made from different types of grapes blended together, rather than a wine made from just one single type of grape. Red blends were also the favorite wine in 8 other states in addition to Minnesota, including Wisconsin, Illinois and Nebraska here in our neck of the woods.
The Shane Company says the favorite wine down in Iowa was a white Zinfandel; while the favorite wine in both North and South Dakota was a Moscato. Moscato was also the favorite wine in 10 other states as well.
And here in the Gopher State, when we have a glass of our favorite red blend, we also like to pair that with some Tellegio cheese, which Cheese.com says is a soft, creamy cheese from Italy, similar to brie or camembert.
Check out the map below to see the favorite wine and cheese pairings in every state. And keep scrolling to check out the Signature Drink in Each State, as well!
Listen to Curt St. John in the Morning
Weekdays from 6 to 10 a.m. on Quick Country 96.5
What Are the Signature Drinks From Every State?