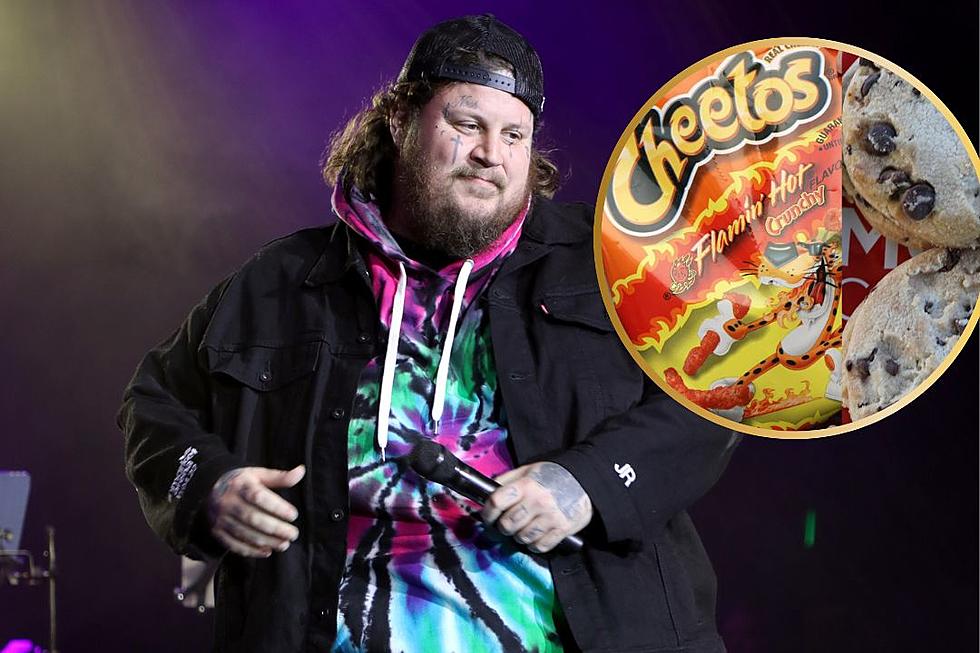 Jelly Roll Shares a Prison Story That Has Us Rolling!
Danielle Del Valle , Joe Raedle, Alex Wong , Getty Images
Jelly Roll has taken the country music scene by storm this year. His first two releases to country radio, "Son of a Sinner" and "Need a Favor," both hit No. 1 on the charts, and he's made lasting friendships with a lot of country artists already.
By now, most have heard about Jelly Roll's storied past and how he's overcome personal struggles. He had a tough early life that began with him being in and out of juvenile detention, then in and out of jail once he turned 18. He has publicly spoken about his felony — it will never be expunged from his record — and how it has causes him trouble even to this day, like when he and his wife Bunnie tried to buy a home in a luxury golf course community, only to be told they weren't permitted. He's even had trouble with touring due to his record.
During my recent interview with Jelly Roll for Taste of Nights, On Demand, I asked him about his go-to jail food concoction. Immediately, a huge smile spread across his face and he let out a chuckle.
"The old fashioned ghetto dope, is what we used to call it," he responded.
He asked me if I had ever seen or heard of it, to which I replied kind of cluelessly, no, I had not. So, he began to break down how exactly to make "ghetto dope," plus another one of his favorite behind-bars concoctions.
For ghetto dope, he says:
"You take the flaming hot Cheetos and you crunch 'em down, then you put a little water in that to kind of patty them out. You can chop up some of the little beef sticks in 'em, pour a little cheese over the top of 'em, and you stick 'em on crackers, it's actually really good!"
Jelly Roll says he doesn't make jail food anymore because he tries to leave his past in the past, and that stuff brings up old memories that he would like to forget. But he got a good laugh out of telling the story.
He also dished to us another exclusive jail food recipe:
"My favorite one is when you took two of the Grandma's cookies, and you put a Moon Pie and a Snickers in 'em, and you put it in the microwave and make you an ol' lil' cake pie or something. But that stuff is bad luck. I believe what's in jail stays in jail, you know what I'm sayin'?"
He might not be as savvy in the makeshift kitchen as Martha Stewart when she was locked up, but Jelly Roll insists his jail recipes slap.
Evan Paul is the host of Taste of Country Nights, a syndicated radio show heard on more than 120 country radio stations nationwide, every night from 7PM to midnight. He plays the best new country music and interviews today's top stars, like Luke Combs, Miranda Lambert, Dan + Shay, Keith Urban, Carrie Underwood, Luke Bryan, Chris Stapleton, Lady A, Morgan Wallen, + more! 
10 Things You Didn't Know About Jelly Roll
The
Jelly Roll: Save Me
documentary on Hulu tells
Jelly Roll'
s complicated life story and spares no details. He's shockingly honest about addiction, prison, his childhood and his insecurities. Here are 10 key takeaways from the project.
11 Songs that Foreshadowed Jelly Roll's Country Music Career
Jelly Roll has taken the country music world by storm over the past year, and he will release his first full-length country album, Whitsitt Chapel, on June 2. Before he jumps right into the deepend of the genre, let's take a walk down memory lane. There are 11 songs that seemed to foreshadow his country music career.
PICTURES: See the Nastiest Band Breakups in Country Music History
Country music is a little more polite in public than some genres, but that doesn't mean the gloves don't come off in private. We tend to assume all of our favorite country artists are good friends with their bandmates, but when they go their separate ways, sometimes the truth turns out to be very different.