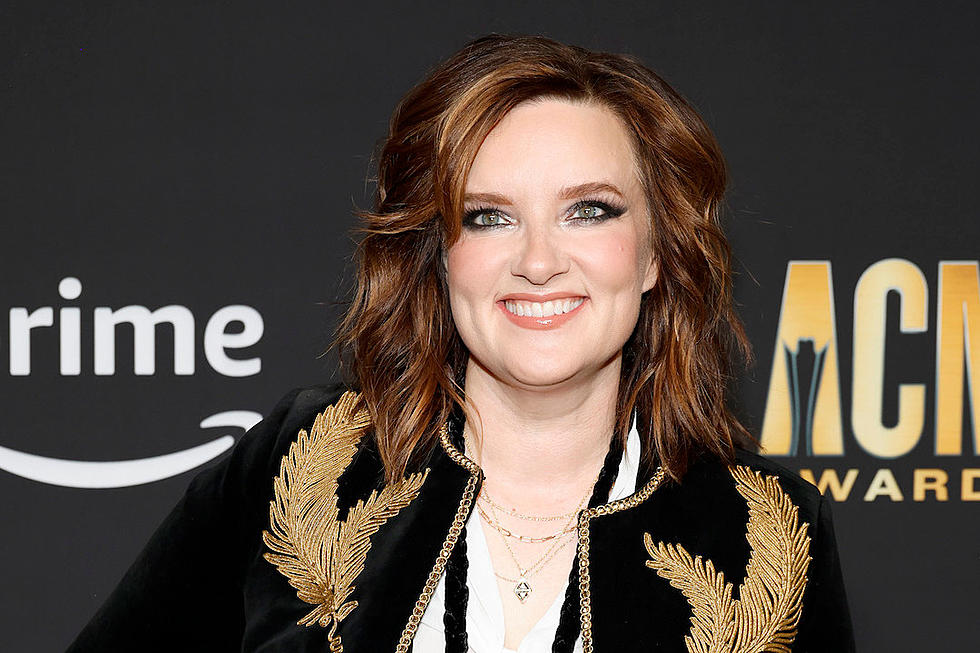 INTERVIEW: Brandy Clark Takes 'A Bold Step' on Brandi Carlile-Produced New Album
Jason Kempin, Getty Images
Brandy Clark wasn't looking to change producers when she started the process of making her fourth album, a self-titled record that arrived on May 19. For her two prior records, she'd worked with Jay Joyce, and been happy with the results. But when Brandi Carlile — an artist she had previously duetted with — made a striking pitch, Clark was intrigued.
"She said, 'I feel like you need to make a bold step, and I feel like I'm it,'" Clark recounts to Taste of Country.
Clark was excited by the idea of working with a producer who was also a recording artist. At the time, she'd just finished her work on Ashley McBryde's Ashley McBryde Presents: Lindeville album, a concept project produced by the Brothers Osborne's John Osborne. But as she and Carlile began work together, she found that the common biographical plot points the two shared — their first name, the fact that they're both women, the fact that they're both gay and the fact that they both hail from Washington State, to name a few — made for a "shorthand" between them that came in handy in the studio.
"I didn't have to ask for much on this record," Clark details, pointing in particular to the studio session for a Carlile-Clark duet, "Dear Insecurity." Carlile had had the idea to record a string section for the end of the song, leading directly into the next track on the album.
"I was sitting back as it was [being recorded], thinking, 'This is beautiful, but this is an intro. I'm gonna wait until they're done and then I'm gonna say that to her.' [They finished], and I said, 'Hey Brandi,' and she said, 'Just a sec,' and hit the button. She said, 'Guys, that's beautiful, but I think it's an intro.'
"I was like, 'Oh my God, believe it or not, that's what I was gonna say!' She goes, 'Well, we're the Brandys! Of course that's what you were gonna say!'" Clark remembers with a laugh.
For all their similarities, Clark and Carlile also had a lot to learn from each other. Carlile is known as one of the most prominent voices in the Americana genre, and has categorized herself as an "outsider artist" — at least when it comes to mainstream country. Clark, meanwhile, straddles the country and Americana worlds, writing country radio hits for the likes of Miranda Lambert and the Band Perry, but still landing more in the singer-songwriter realm with her own albums. Both are heralded as two of the most powerful storytellers working in the format today.
When Carlile described herself as a "a bold step, Clark says she thinks she meant that working together would draw out Clark's Americana side. She also provided some major changes to the recording process, with the majority being recorded live without overdubs, and no click track to serve as a metronome for the drums. But perhaps the biggest change that Carlile's participation in the album brought was the lasting lessons about musical storytelling that the two women taught each other.
Clark taught Carlile about brevity, she says.
"She feels like I'm really great at telling a story and trimming all the fat off. In the world she lives in, there are six-minute songs," Clark notes. As a songwriter for country radio, Clark knows how to keep things sparse enough to fit into three minutes. Meanwhile, Carlile taught her a lesson "that I will take for the rest of my life" about emotional intimacy in songwriting, the singer goes on to say.
At the beginning of the album-making process, Clark gave Carlile about 24 songs, and Carlile chose 10. (There are 11 songs total on the track list of Brandy Clark; Clark fought to include one track called "Tell Her You Don't Love Her").
"I said, 'Why did you choose the songs you chose?' Because some of the choices surprised me. She said, 'Well, all of the songs were great, but I chose the songs that when I listened to them, I felt like I [was] in your bedroom,'" Clark says. "That was a really big thing for me, because I've written songs for a long time now, in a professional capacity, and I forget that the reason why I love the records I love and the songs that I love isn't because they're tricky, or I think, 'Ooh, I love what they did there.' It's because they make me feel something."
Arguably the centerpiece of Brandy Clark is "She Smoked in the House," a song that Clark wrote solo as a tribute to her grandmother. That song is also a prime example of her process of re-learning to write personal, specific subject matter.
Clark says she began writing the song after revisiting Merle Haggard's "Are the Good Times Really Over for Good," and thinking about her grandparents, who were big Haggard fans. She set out to write a song dedicated her grandparents' generation, originally titled "They Smoked in the House."
"And I just couldn't hook it. It felt clinical, and it didn't feel like [it had] any heart," she remembers. "And I remember a writer who I really admired, and had a chance to work with, was Mark Sanders. I remember him saying to me, 'In order to be universal, you must first be specific.' I thought, 'This is really about my grandma.' So once I changed it to 'She Smoked in the House,' the light came on."
Clark still struggled to get the song just right after that, but the outcome was so personal, she says she feels like she wrote it with her grandmother. Lines like "She cut the mold off cantaloupe and cheese" were ripped straight from Clark's own family memories.
"Those kinds of things become easy, those unique, specific details, because they're real," she says.
Still, Clark thought the song was too personal to be accessible. She didn't expect it to make the cut for the album track list.
"I really was just writing that, I think, because I was missing my grandma and wanted to write something about her. I'm shocked that it ended up on this record, but I'm happy that it did," she continues.
So much so, Clark says, that she sees herself bringing that level of specificity to future records.
"I think that's kind of the change moving forward," she elaborates. "It's a subtle change, you know, what Brandi said about the songs — that you feel like [I] wrote 'em in [my] bedroom. I think that going forward, I'm going to be a little bit more personal. I've always written personal things, but...[they haven't] ended up on my records. And I do think, yes, moving forward, there's gonna be a lot more of that."
The 50 Saddest Country Songs of All Time
Each one of the 50 saddest country songs of all time tells a story. Some of those stories are about the pain of heartbreak, while others explore the grief of losing a loved one. Some are about more unconventional subject matter — from infertility to the loss of the beloved family dog — while others tap into the universal subjects of heartbreak and loneliness. Flip through the gallery below for a list of the saddest country songs, ever.