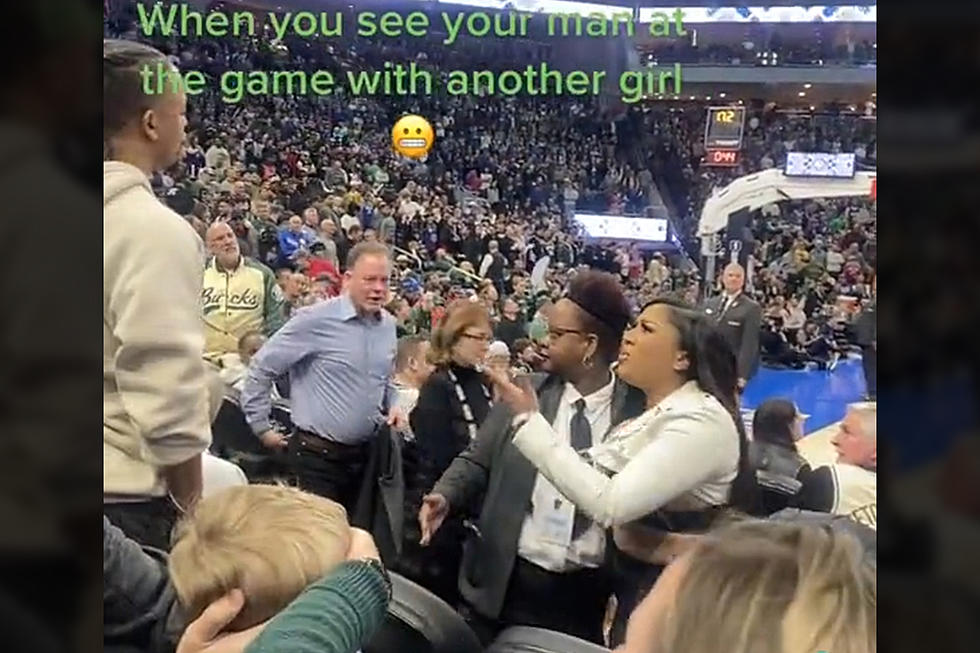 WATCH: Woman Busted Her Boyfriend At Milwaukee Bucks Game With Another Girl
@MrsJellySantos on Twitter
The Milwaukee Bucks NBA Team have been drawing quite the crowds over the last few years, it helps that they have great players and a championship team too. I remember as a kid going to many games with my dad and it was always so exciting, to see these giant guys jumping all over the court.
As with many professional games they are broadcast on television so depending on where you sit you and whoever you are at the game with just might end up on TV or at least the Kiss-Cam. This story involves quite a tangled web indeed.
A man decided to bring his "date" to a Bucks game recently but was found out by his "Girlfriend" and let's just say things did not stay very friendly for long. Unfortunately or maybe, fortunately, it is hard to hear what she is saying in the video below but you do hear a few "F" Bombs. Notice the gentleman covering up his son's ears you know some words were exchanged, mostly from the said girlfriend.
By the way, this woman was dressed I think she had plans to go to the club afterward, and apparently, this poor kid not only had his dad covering his ears but his mom trying to cover his eyes too.
According to an article in totalnews.com the Milwaukee Bucks were playing the Washington Wizards this past Sunday night when this off-the-court action went down. The video was uploaded later that night and "racked up 3,500,000 views on Twitter in less than 24 hours, and 190,000 likes on TikTok."
I tell you that sometimes the best action is in the stands at sporting events and concerts, so you get double the entertainment. Although I am pretty sure most of the people in this particular section would have been fine without all the drama.
Tailgating Essentials For Beginners
Professional Athletes Who Once Called Wisconsin Home
Pro Athletes From Wisconsin