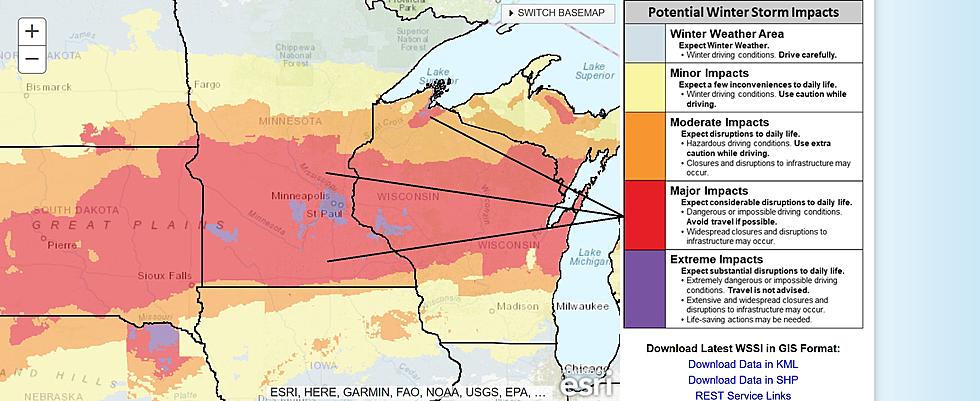 Rare "Crippling" Snowstorm May Shut Down Much of Minnesota and Wisconsin
Credit: NOAA
My favorite meteorology professor in college became visibly irate anytime one of his students attempted to predict snow down to the inch. "It's impossible with the science we have at our disposal!" he thundered, his face red and visibly agitated. He went on to say that all storms fall into 3 buckets:
"Nuisance", a little slush, no big deal. It's a nuisance snow.
"Plowable": as the name implies, enough to shovel and plow. Slow travel, but people get around.
"Crippling" storms, where everything shuts down.Travel is essentially paralyzed with widespread disruption.
The storm impacting Minnesota and Wisconsin may become crippling from late Wednesday into much of Thursday.
NOAA's Winter Storm Severity Index forecast above shows Category 4 and 5 impacts for much of the Northland, with the South Shore of Lake Superior seeing the heaviest snow and most severe blizzard conditions, while the Arrowhead only picks up a few inches.
The problem will be the wind, and a cold storm producing light, powdery snow, prone to severe blowing and drifting. White-out conditions are possible, and the meteogram above shows peak winds of 25-50 mph from late Wednesday into midday Thursday.
I'm seeing fewer 2-foot snowfall predictions for central and southern Minnesota on the latest ECMWF (European) model forecast, but 15-20" is still a very big deal. Hayward and Ashland, WI may pick up 15-18" of snow, with only 3-4" for Hibbing. The Twin Ports will be right on the northern edge of the heaviest snow shield, with plowable 6-10" amounts possible in Duluth-Superior.
NOAA's 12KM NAM weather model is printing out outrageous amounts of snow for the southern third of Minnesota and Wisconsin, with a foot or more just south of Duluth and Superior. To repeat: the worst conditions on area highways will come late Wednesday into Thursday afternoon with blizzard weather likely, especially in open areas. 10-20 foot waves may spark coastal flooding, especially South Shore of Lake Superior.
Weather conditions ease Friday as winds lighten up, giving road crews a chance to dig us out. 20s (above) zero return next week with a shot at 30. No arctic blast behind this potentially historic storm, if that's any consolation.
A close encounter with an historic storm that may still dump 15-20" on the Twin Cities, a Top 5 Snowstorm since 1884 for MSP capable of activating the National Guard? That's a pretty big deal. Take it easy out there the next 48 hours. Don't push the weather.
Things Everyone Knows About A Duluth-Superior Winter
Living here and experiencing the worst that Mother Nature can dish out, Northlanders just seem to know certain things about winter.