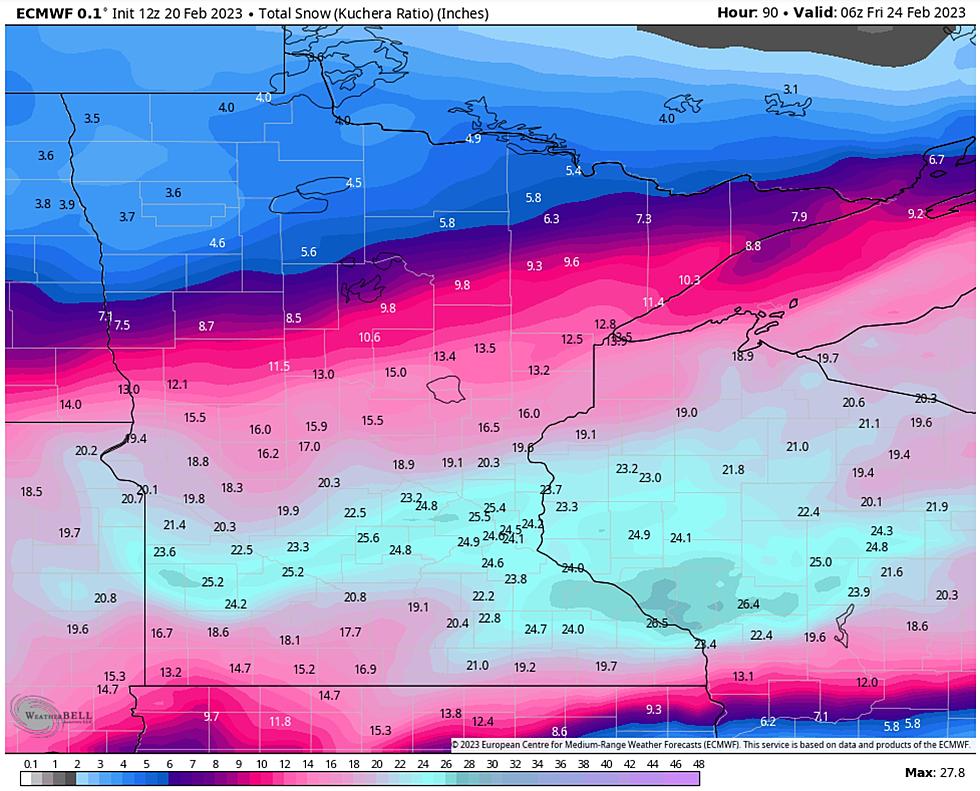 "Category 4″ Winter Storm Forecast to Impact Northland – Coastal Flooding Potential?
European model snow totals by Friday, courtesy of WeatherBell
Unless you've living in a cave (which sounds pretty good some days, as long as it has WiFi, running water and a nice 50" big-screen TV) you know that a big storm will impact Minnesota and Wisconsin later this week. Weather models are fairly consistent keeping the heaviest snowfall amounts south of the Twin Ports, where another 8-10" may pile up Wednesday night into Thursday, but snow won't be the only weather-related impact.
NOAA is experimenting with ranking winter storms on a 1-5 scale, much like they do for tornadoes and hurricanes, with the Winter Storm Severity Index (WSSI). Major ("Category 4") impacts are predicted just south and east of Duluth and Superior, from blowing and drifting snow, winds gusting over 50 mph, and possible coastal flooding from sustained northeast winds for the better part of 30 hours on Lake Superior. Here's an excerpt from a recent Duluth National Weather Service analysis that caught my eye.
Sustained high winds on the north side of an intense area of low pressure may push water to the south and west, with some potential for coastal flooding in areas that are prone, especially northern Wisconsin and the U.P. of Michigan by Thursday.
NOAA has a slick tool that predicts winds and wave heights on the Great Lakes, and the latest model guidance suggests 20-25 foot waves over the open waters of Lake Superior by Thursday!
The Apostle Islands may be in the path of the most intense winds and waves from this powerful storm, with a risk of coastal flooding in areas that have experienced flooding or beach erosion in the past.
The heaviest snow will stay just south of the Twin Ports with only a few inches for the Arrowhead, while much of Wisconsin and the southern half of Minnesota measures snow by the foot.
Hey, it's February. Let it snow. But hard pass on the coastal flooding...please!
Embrace & Enjoy Winter
Seasons come and go.
This one too shall pass, so use your time wisely, instead Take Advantage.