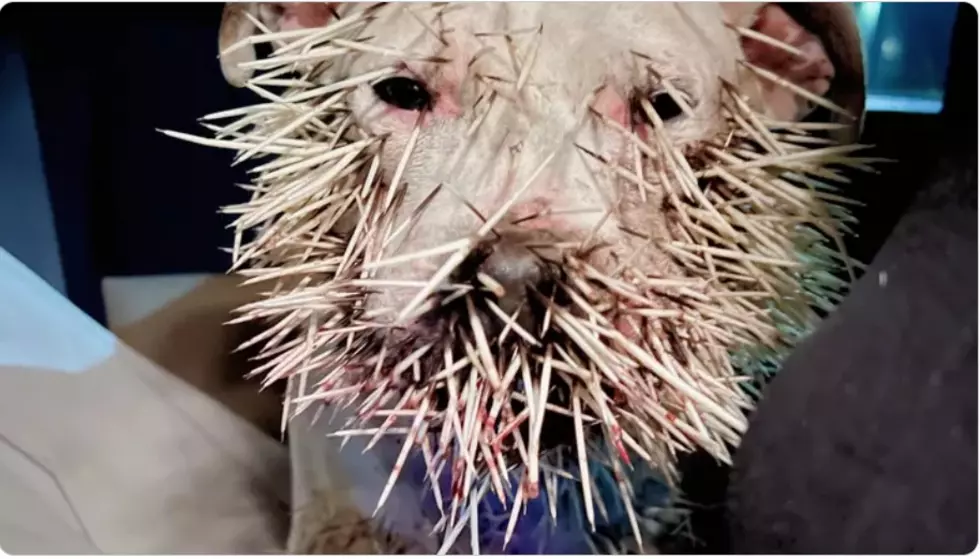 Fundraiser Started For Duluth Dog Critically Injured From Porcupine Encounter
Save Lucy's Life / GoFundMe.com
Every pet owner in the Northland is wary of their four-legged friend having a confrontation with a porcupine. I've seen dogs owned by family members challenge a porcupine and wind up injured by a few quills stuck into them.
That is traumatic enough and I can't imagine what the family of a Duluth area dog is going through after there beloved family dog Lucy suffered what veterinarians say are the worst porcupine injuries they've seen in years.
After the massive amount of quills were initially removed, Lucy suffered complications and is currently fighting for her life. As medical bills mount, Grace Hietala has started a  GoFundMe page to benefit the dog's owner Anita Franz, who is also her mother.
She explains what transpired after the quills were removed:
The next day Lucy began having trouble breathing so we rushed her to the vet hospital where they did another surgery, during that they found blood and quills in her trachea. This type of surgery removal could only be performed in the city's and they were completely booked. We rushed her to the Duluth pet hospital Blue Pearl. Everyone was sobbing our eyes out on the way there because this Dr. did not know if he could preform the surgery. When we finally arrived Lucy had started to turn blue. But Lucy is a fighter she is our mama Lucy to our puppies, she is fighting.
She adds that once breathing issues were observed, the vets quickly tubed Lucy and did an endoscopy. During the endoscopy they were able to pulls quills from her trachea and even some that were found inside her stomach. As of Monday, Lucy still has quills in her that are working there way externally and hopefully not back into her throat area.
To date, the family is facing medical bills that total around $5,000 and they have emptied their savings account to try to keep up. However, Lucy continues to need care and the medical costs will continue to grow.
The GoFundMe page was initially established with the goal to raise $5,000, but surpassing that would obviously be a tremendous help.
Hang in there Lucy, we're pulling for you!
KEEP LOOKING: See What 50 of America's Most 'Pupular' Dog Breeds Look Like as Puppies
Check out these 50 fascinating facts about dogs: