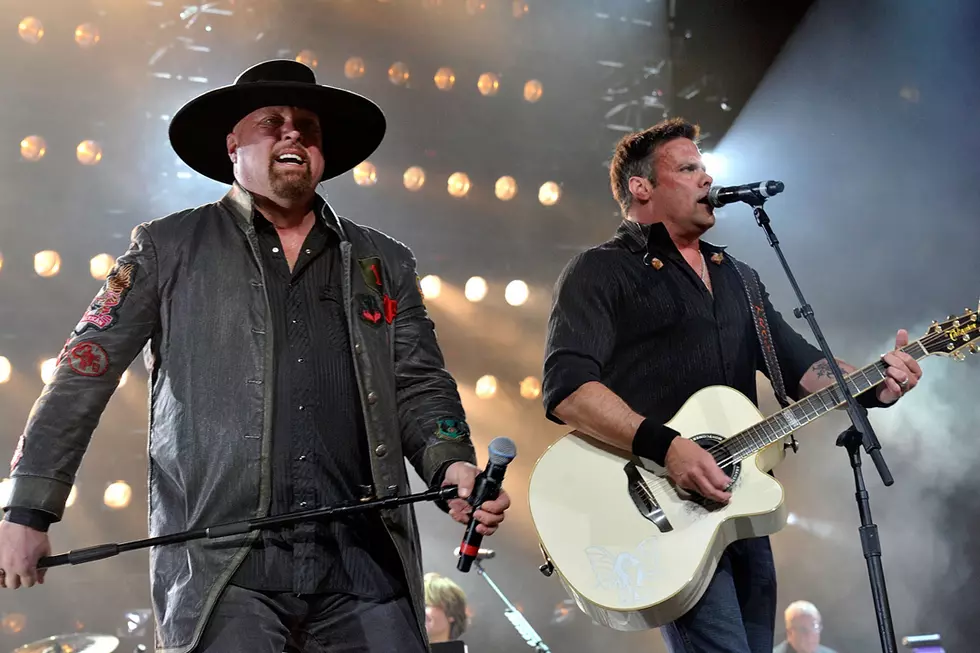 Eddie Montgomery Reveals How Montgomery Gentry Will Fill Troy Gentry's Shoes Live
Frederick Breedon IV, Getty Images
Eddie Montgomery is hitting the road with Montgomery Gentry for the first time since the death of his partner, Troy Gentry, and he recently sat down with Taste of Country to discuss how he and the band will move forward after their loss.
Gentry died on Sept. 8, 2017, in a helicopter crash prior to a planned Montgomery Gentry show, and his partner took the rest of the year off to mourn and to figure out his next move. Montgomery decided to move forward with the promotional tour in support of Here's to You, the duo's final album, which they completed just days before Gentry was killed. After pondering how to replace Gentry's vocal presence for the live shows, Montgomery tells us the answer was right in front of him all along.
"At first I was gonna sing everything, and then I'm like, 'You know what, I don't think I should do that,'" he shares. "All of our guys [in the band] are great singers, too, and of course, they've been our family, also. All of us guys together have been on that bus for 20 years ... we got to talking about it, and the band was like, 'Man, we would really like to sing a verse here or sing a verse there.'"
Montgomery says it's the perfect solution to address Gentry's absence.
Watch: Eddie Montgomery Unfiltered
"All of our friends out there will get that, because they know our band as well as they know us. We'll all just take turns doing some of T's parts."
Montgomery admitted he wasn't yet sure, going into rehearsals, how he would handle singing Montgomery Gentry's current single, "Better Me," which features Gentry in a standout vocal performance.
"That's gonna be a hard one," he states. "We're really trying to figure out how we're gonna do that, because, hell, I don't think I can do it justice. He just sang it so well."
The duo always discussed who would sound better on which songs, but when Gentry heard "Better Me," he came to Montgomery and told him how strongly he felt about singing it. The song is a fitting epitaph for the late singer, telling the story of a man who's started to outlive his younger, wilder days and trying to move forward as a more settled-down version of himself.
"He said, 'I really wanna sing this song,'" Montgomery recalls. "That's the first time he'd ever done that. And that's what's a little eerie, you know. Kinda freaks me out a little bit."
Montgomery Gentry launched the Here's to You Tour on Friday night (Jan. 19) in Sioux Falls, S.D., the first of two nights on a double bill with Alabama. The tour is slated to run through Sept. 15, when it wraps up with an appearance at the Boots and Brews festival in Ventura, Calif.
Montgomery's full-length, in-depth interview with Taste of Country will run on Tuesday (Jan. 23) and Wednesday (Jan. 24).
Remembering Montgomery Gentry's Troy Gentry