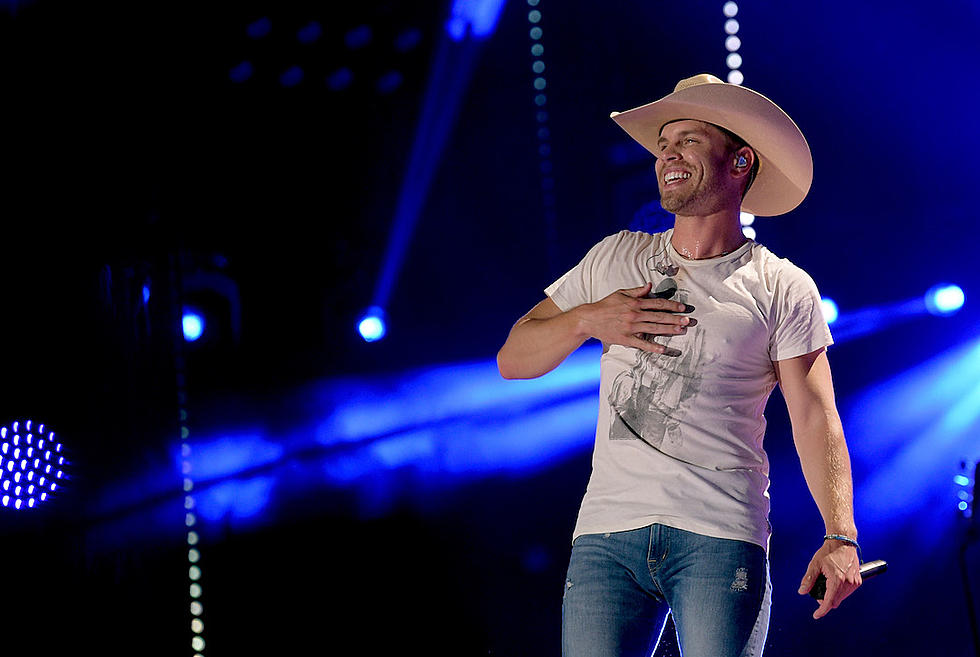 Dustin Lynch Says 'Good Girl' Has Sent Some Potential Love Interests His Way
Jason Kempin, Getty Images
Dustin Lynch's spontaneous process of releasing his latest single, "Good Girl," may have been a bit unconventional, but something about the song told him that it needed to be out in the world as soon as possible. The song fell "right out of the sky," Lynch told The Boot backstage at the 2018 Taste of Country Music Festival.
"In February, we wrote [the song], and it just raised its hand and said, 'Please record me.' And then it raised its hand and said, 'Please release me,'" Lynch added at the 2018 CMA Music Festival. "For whatever reason, it said, 'I need to be out for the summer of 2018.'"
"Good Girl" came about when Lynch was in somewhat of a dry spell in terms of writing new material. "I started 2018 kind of bummed out, because I usually take January off and go on vacation, and one thing I like to do is play my friends new songs I've been working on. This January, I didn't have any to play for them," he explains. "It really bummed me out, because I love the process of getting their feedback. So I knew it was time to start writing again. Later, I had a couple of buddies out on the road with me during the Brad Paisley tour, and we wrote three really good songs, "Good Girl" being the third one.
"The night before, we had written what we knew was a hit song," he continues. "Usually, when you know you've written a big one, the next day [you don't write much because you know that] nothing's gonna be as good as that. For whatever reason, though, "Good Girl" just came in and blew our minds."
One of Lynch's biggest hits to date came in 2017, with "Small Town Boy," and the country star says he's still very much in the process of learning what kind of artist his audience wants him to be. "I'm still figuring out what people want from me," he comments. ""Small Town Boy" had this tougher, cooler vibe. So I keep that in mind when I'm in the headspace of writing, just remembering that tougher, cooler, young-love sort of thing."
Part of Lynch's process of connecting to fans to learn more about what kind of artist they want him to be involves tapping in to social media. Early in 2018, the singer wiped his Instagram page clean and started posting numbered, in-depth videos that shared intimate, behind-the-scenes peeks into his daily life. As Lynch, who is single, has posted more about his desire to find a good relationship some day, he's seen more fan responses -- and maybe even a few resumes.
"As I've become more vocal on social media, there has been a lot more outreach, especially with the release of "Good Girl,"" he continues. "It's a song I wrote with two guys that have their lifelong partners, but I was the guy in the room who didn't, so, yeah, I sing that song from [an angle of] longing to find that person that sets my world on fire and takes life to a new level. I don't know if the song reminded people that I'm single or what, but it has been funny to see how that reaction's happened on social media."
Although he's ready to meet someone special, Lynch is quick to point out that he doesn't believe in rushing into a relationship. "I'm not a person who needs someone to feel complete," he explains. "I like to be independent, and I'm in love with writing music and recording and trying to perfect my stage game.
"There's not a hole I need someone to fill," Lynch adds. "I know if I go looking for it, I'm not gonna find the right thing, so I'm gonna keep pedaling the bike down the path and we'll see if somebody jumps on."
Country's Greatest Love Stories