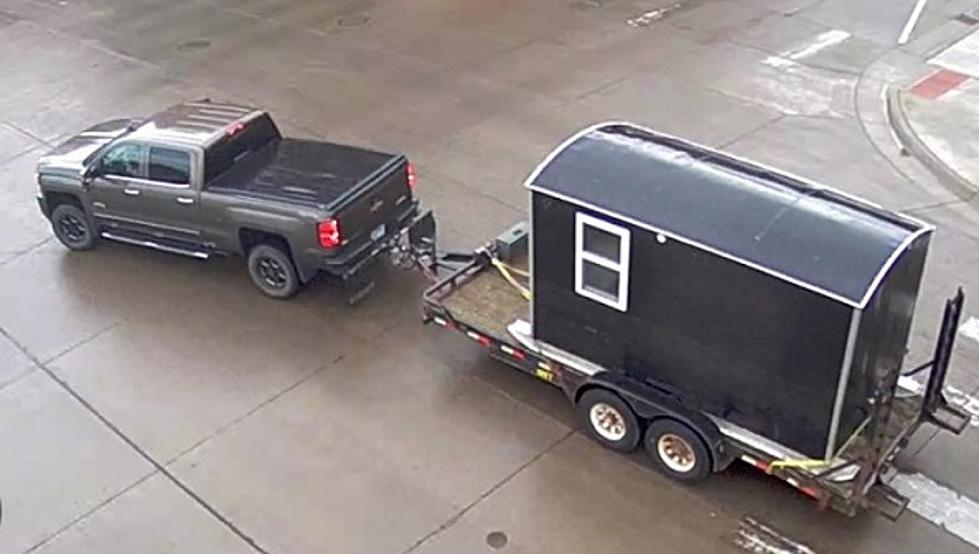 Duluth Police Need Help Identifying Truck Involved In Stolen Ice House + Trailer
Duluth Police Department Facebook
The Duluth Police Department is once again reaching out to the public with the hope of catching anyone involved in a recent crime. Recently, they had reached out hoping to identify two individuals who were involved in the robbery of a Duluth Kwik Trip.
This time, they need help from the public to find and truck, and then hopefully its owner and any individuals involved in the recent theft of personal property.
They reached out Tuesday afternoon through their Facebook page to provide information, along with a pretty clear photo. According to Duluth Police, at approximately 5:40 p.m., on Sunday, July 16, the truck in question stole a trailer and an ice house from the area of 4th Ave E and E 1st Street in Duluth.
The truck was last seen going southbound on I-35 past the Proctor exit. They're asking anyone with any information on this crime, or who knows the owner of the truck pulling the trailer and ice house, to please call the Duluth Police Department's Auto Theft Investigator at (218)-730-5653 and reference ICR 23103027. You can also submit an anonymous tip by texting the keyword 'DPDTIP' and your tip to 847411.
Even if you don't recognize the truck or have any information on this theft, you can still help by sharing this information across your social media accounts. As is always the case in situations like this, the more people who get this information and see the picture, the better chance it will be located, hopefully along with the stolen ice house.
Even though you can't make out the license plate, the hope is that someone saw something between Sunday and now. Perhaps they saw the truck pulling the ice house or they know of someone who very recently got a new ice house that looks just like the one that was stolen.
LOOK: Most dangerous states to drive in
Quiz: Do you know your state insect?
Stacker has used a variety of sources to compile a list of the official state insect(s) of each U.S. state, as well as their unique characteristics. Read on to see if you can guess which insect(s) represent your state.