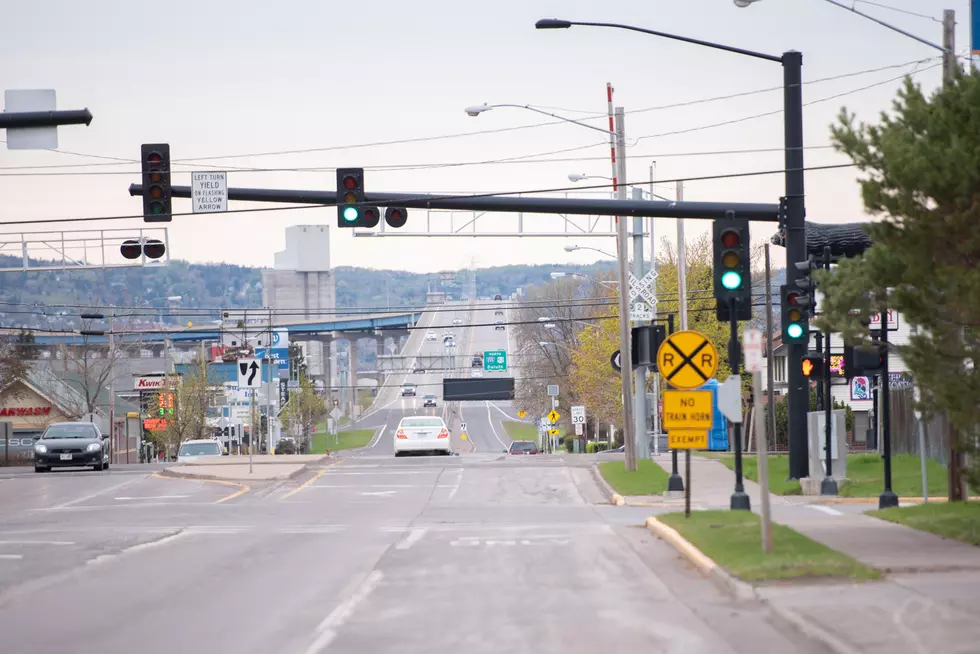 Duluth Blatnik Bridge Update: Total Rebuild + No Hammond Connection
Nick Cooper - TSM Duluth
As the eventual replacement project for the Blatnik Bridge approaches its start date, the final design is starting to become clearer.  Two major design questions seem to now have an answer; one involves the final location and scope of the project (i.e. will it be rebuilt on the existing footings or become a totally new structure) and the other involves how the bridge connects to traffic at it's base when it lands in Superior.
Unless something drastically changes before the 2028 project start date, it now looks like the new Highway 53 bridge connecting Duluth and Superior will be a "full replacement" and not a "refurbishment" of the current structure.  That means that the new structure will be built on new footings and will exist at the same time as the old bridge structure, until that one can be dismantled.
In other words, nothing from the existing structure will be reused on that new bridge. In an article in the Superior Telegram [paywall], Wisconsin Department of Transportation Project Manager Marc Bowker explains:
"The actual rehabilitation we have ruled out.  It doesn't become financially feasible to rehabilitate the entire [existing] structure".
While the refurbishment/rebuild question has been determined, WISDOT and MNDOT officials still haven't shared exactly where the new bridge will cross the St. Louis River bay.  Earlier tentative design plans have shown a variety of different scenarios - with a new bridge structure being built somewhat in the same corridor area, but either to the east or west (right or left) of the current one.  At this point that question remains unanswered; this new development only cements the fact that it will be something new and different.
The other development that has come from state transportation officials concerns where the bridge connects to traffic when it lands on the Wisconsin side.  Right now, that connection is on Hammond Avenue - which means that for all intents and purposes a four lane highway connects down to a two-lane city street. The recommendation coming from the state is that that connection gets moved to U.S. Highway 53 south.
While welcome by design engineers, law enforcement, and many city officials, that move from Hammond Avenue to the south-east on Highway 53 will not come without controversy.  Right now a variety of businesses depend upon the heavy traffic patterns that the Blatnik Bridge delivers to that area.  Along with the change in road and traffic patterns, the move will also necessitate demolition and relocation for some buildings in the new path.
Superior Mayor Jim Paine shared his thoughts on a new landing spot for the bridge:
"I certainly support it landing on Highway 53.  That makes so much more sense.  Landing directly onto Hammond is dangerous.  It would be a real step forward to land that thing correctly."
Paine went on to say:
"Overall, [the move[ will be good.  It's nice to look at a new north end and make things function for everybody.  It's not right now  We're landing a bridge in the middle of a neighborhood, and it's done some harm.  This is an opportunity to fix that and it's really exciting."
While WISDOT and MNDOT have announced their intentions with the final design for both the bridge (a rebuild) and the landing (moving to Highway 53), there is still time for public comment.  WISDOT's Bowker offered "If we get a large outcry about how, 'We like this configuration', we may need to consider it further".  To offer your voice to the comments and suggestions, click here and submit your entry before July 21.
Here Is How To Blur Your Home On Google Street View
LOOK: Here are the best lake towns to live in
Many of the included towns jump out at the casual observer as popular summer-rental spots--the Ozarks' Branson, Missouri, or Arizona's Lake Havasu--it might surprise you to dive deeper into some quality-of-life offerings beyond the beach and vacation homes. You'll likely pick up some knowledge from a wide range of Americana: one of the last remaining 1950s-style drive-ins in the Midwest; a Florida town that started as a Civil War veteran retirement area; an island boasting some of the country's top public schools and wealth-earners right in the middle of a lake between Seattle and Bellevue; and even a California town containing much more than Johnny Cash's prison blues.