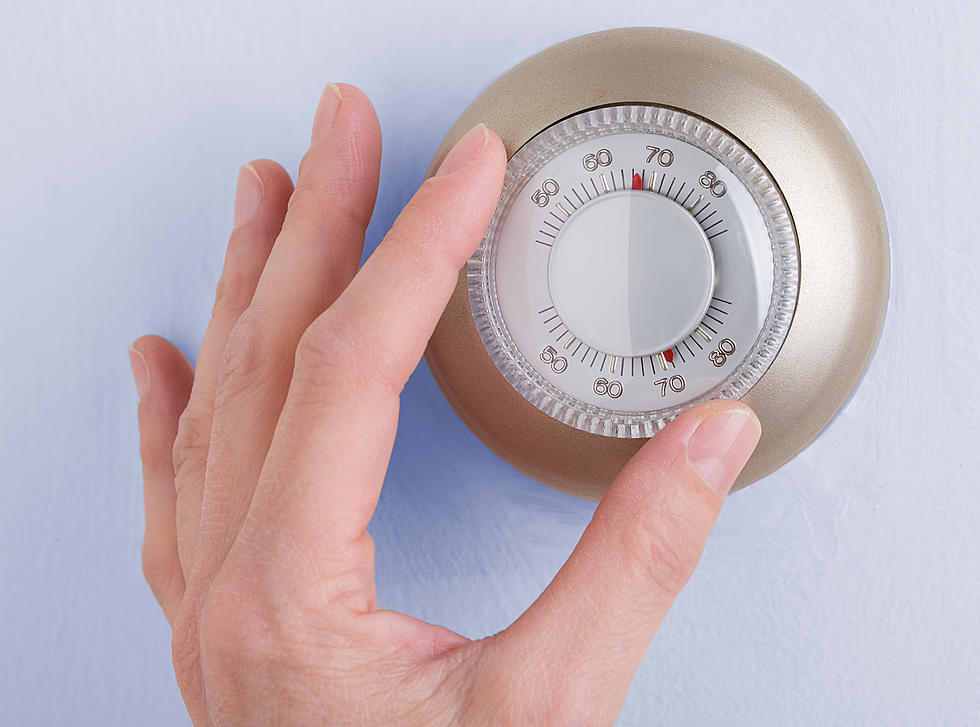 UPDATE: City Of Duluth Lifts Thermostat Request To Natural Gas Customers
JerryB7
UPDATE 01:10 PM 1/30/22
City officials announced Sunday that they have lifted the thermostat reduction request. In a release issued on Sunday, it was shared that customers east of Lake Avenue, who had been asked to keep their thermostat no higher than 62 degrees, could return to normal usage.
"We would like to thank the public for their assistance over the last few days," Interim Director of Public Works and Utilities Greg Guererro said. "Reducing the load on the gas service allowed our crews and contractors to make the repairs that we needed to make, and gave us time to be confident about the flow of gas to serve customers. We know that for many this was an inconvenience and appreciate their help to maintain services to the entire community."
The request stemmed from one of the city's major gas mains being damaged on Thursday in Lincoln Park. Officials had initially requested two neighborhoods reduce their thermostat for the early part of Friday, but as crews continued to work on the situation, it was determined a larger area would need to play a role in reducing their thermostats to prevent issues citywide.
"I want to personally thank staff for their work," Mayor Emily Larson said. "Many have had very little sleep while repairing the gas main, monitor that conditions were safe, and to maintain services that customers rely on. They deserve a lot of credit for their time and expertise to fix this as quickly as they did. Mayor Larson went on to say, "I also want to thank everyone impacted by this. Because so many were willing to sacrifice their comfort and turn their thermostats down, we didn't have to shut off services to neighborhoods. We cannot thank residents and businesses enough for their patience and understanding."
UPDATE 08:45 AM1/29/22 
Duluth city officials issued another update, extending their request to all natural gas customers east of Lake Avenue to keep their thermostats no higher than 62 degrees at least through the weekend.
The request is directed specifically to both residential and business customers using natural gas to heat their homes.
The ongoing request stemmed from a major gas main being damaged on Thursday by construction crews in Lincoln Park. Since then, city utility crews have been working on a patch solution.
"Crews have been working hard to repair the pipe. This work takes time and is complicated," Greg Guerrero, Interim Director of Public Works & Utilities said in Saturday's update. "We are seeing a positive impact from customers making the temperature reduction, which lessens the load on our gas system and makes our jobs easier. We understand that this is an inconvenience and we greatly appreciate the community's help throughout this process."
As Guerrero explained, customers in the area east of Lake Avenue reducing their thermostats reduces the stress on the city's natural gas system. This helps keep service active throughout the city, preventing service outages.
We will provide further updates as they become available.
UPDATE: 12:30 PM 1/28/22
Officials with the City of Duluth have expanded their request both in time and geographic area from their first message Friday morning. It now applies to people east of Lake Avenue as well as north of Arrowhead Road, all the way to McQuade Harbor. All residential and business gas customers are being asked to turn their thermostats to no higher than 62 degrees until further notice.
In an update issued just before noon on Friday, officials explained that they need to extend and adjust this request to both residents and businesses until further notice to prevent gas service issues or disruptions across the city.
The initial request was for the Lakeside and Woodland neighborhoods through 11 am Friday. That has now been expanded to any residence or business east of Lake Avenue as well as north of Arrowhead Road, all the way to McQuade Harbor, and remains in effect until further notice.
Mayor Larson expressed sympathy with these residents in a press conference, admitting that this is not an easy or convenient request of people in these neighborhoods, especially with temperatures outside being rather chilly.
Customers in these impacted areas reducing their thermostats, however, can make a significant difference in keeping heat on for everyone across the city.
Damage caused to a major gas line by contractors in Lincoln Park on Thursday created an issue that is impacting gas pressure in the city's natural gas system. Experts say that reducing strain on the system from these neighborhoods can help in keeping service active for everyone.
It is worth noting that this only impacts natural gas customers, and does not include people that have electric or other means of heat.
Mayor Larson also responded to a question about a timeframe during the midday press conference. While the city had initially set a timeline of 11 am on Friday, Mayor Larson had mentioned that they aren't able to set a timeline for this extended request. Larson explained that this issue could extend into Saturday, though they are unsure of an exact timeframe at this time.
Crews continue to work on the issue, and hope to resolve it as soon as possible. Officials say that the repair plan will likely be done in two phases. The first is for a "short term" patch fix to restore service at a more full level until a permanent fix can be applied once the heating season ends.
In the event gas does need to be shut off, plans are being put in place to provide shelters for people impacted by a shutoff. Mayor Larson expressed optimism that a shutoff should not be necessary if people comply with the thermostat request and repair activities go as planned. In the event it is necessary, however, more details about shelter information will be made available.
We will provide future updates as they become available.
ORIGINAL POST: 7:45 AM 1/28/22
Officials with the City of Duluth issued a request Friday morning for people in a couple neighborhoods within the city to turn down their thermostats temporarily in response to a gas service issue due to damage to a gas main on Thursday.
Before noon on Thursday, January 27, city officials reported that contractors had damaged a major gas main in the Lincoln Park neighborhood. The city quickly shut off the gas in the immediate area out of safety, working through the rest of the day to determine what impacts this might have to residents around the city.
As of Friday morning, it was determined that a request to reduce gas usage in a couple neighborhoods would help prevent system overloads and potential neighborhood service outages. In response to this, city officials issued a notice Friday morning, asking customers (both residences and businesses) in the Lakeside and Woodland neighborhoods to reduce their thermostats for a part of the day on Friday.
The request specifically asks customers in both Woodland and Lakeside to lower their thermostat to 62 degrees from 6:45 am Friday to 11:00 am Friday, January 28.
City officials will provide additional updates as they are available.