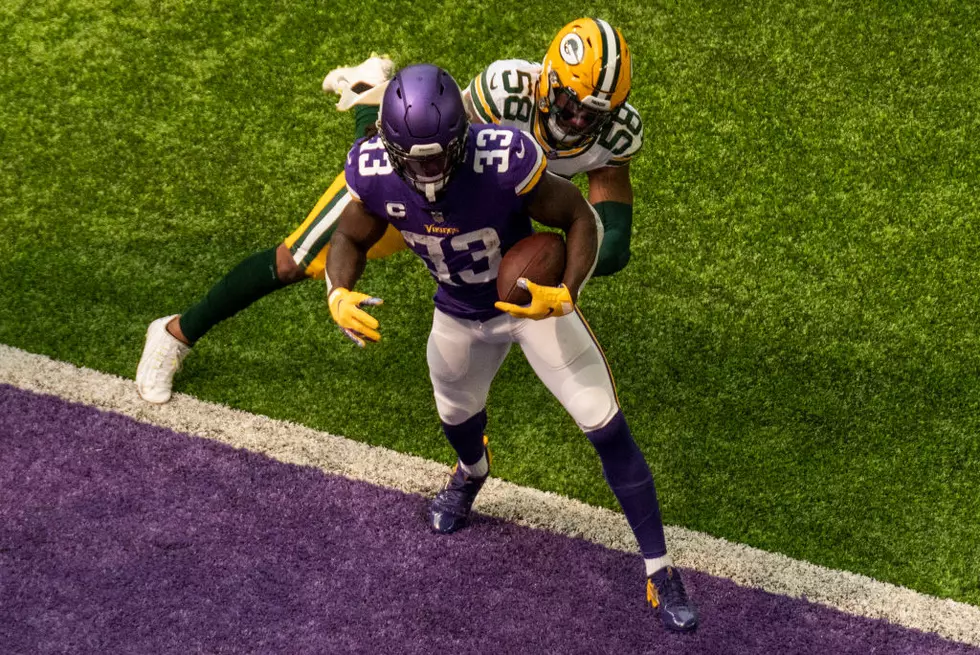 Busy Weekend As Vikings Extend Cook, Then Fall To Packers In Season Opener
Getty Images
The Minnesota Vikings made a big move to retain a key piece of their offense before kicking off their 2020 season Sunday against the Green Bay Packers.
According to NFL.com, the Vikings and Pro Bowl running back Dalvin Cook agreed to a five-year, $63 million extension Saturday.  NFL Network's Tom Pelissero and NFL Network Insider Ian Rapoport are reporting:
The deal will see Cook get $28 million guaranteed. Along with that, Cook received a $15.5 million signing bonus, which is the largest for a non-quarterback in Vikings history, Pelissero added. The team later confirmed the signing.
Cook was entering the final year of his rookie contract and had they not come to terms on a new agreement, the Vikings would have likely used the franchise tag on him going into next year.  This will avoid that drama and retain the services of a crucial part of a Vikings offense that relies heavily on a powerful run game.
The was great news as the Vikings prepared to open the 2020 season against the Green Bay Packers Sunday.  Unfortunately, Dalvin Cook can't also play defense.
The Vikings provided little resistance against Aaron Rodgers and the Packers offense in a 43-34 defeat that wasn't even as close as the score might indicate.
Rodgers passed for 364 yards and 4 touchdowns against the Vikings rebuilding defense, which includes a young and unproven secondary that may need more time than originally expected to come together.  The Vikings also showed how much they miss Danielle Hunter as the defense failed to record a sack.
For his part, Dalvin Cook did contribute 2 touchdowns and a 2-point conversion while rushing 12 times for 50 yards.
Enter your number to get our free mobile app
Next up for the Vikings is a trip to Indianapolis to take on Philip Rivers and the Indianapolis Colts, who opened their season with a 27-20 loss to the Jacksonville Jaguars.
B105 is your home for Minnesota Vikings football.  We'll have the pre-game show on Sunday, September 20 at 11:00 a.m. and the kickoff is at noon.
Five Best Minnesota Vikings Quarterbacks