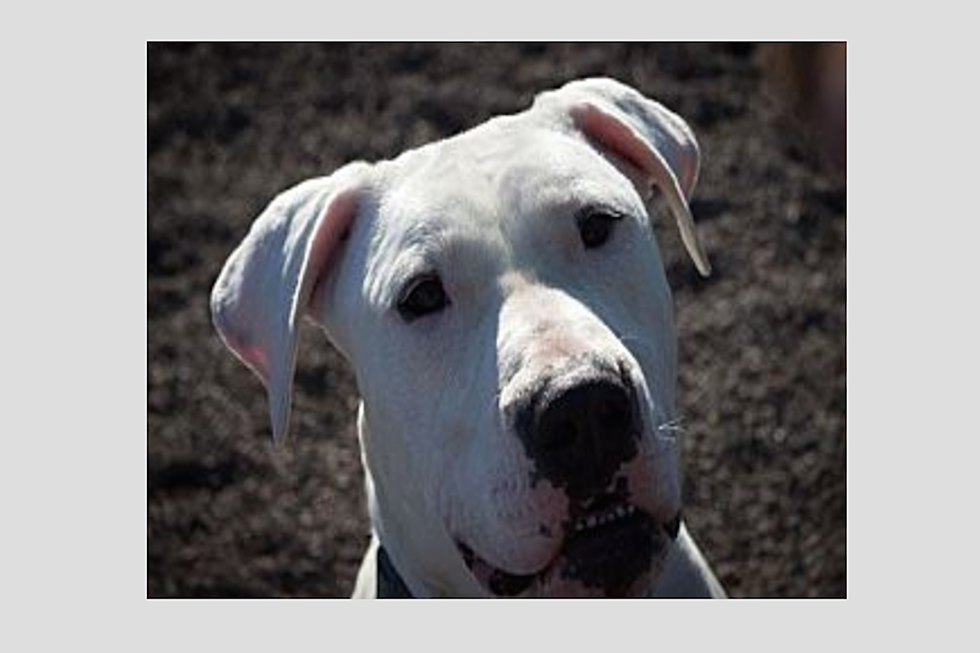 Animal Allies Pet Of The Week Is A White Dogo Argentino/American Bulldog Mix
Photo Permission: Animal Allies
Our Animal Allies Pet of the Week is a very special girl.  Her name is Daisy and she is a  beautiful white Dogo Argentino/American Bulldog mix who is deaf.  She is already spayed and looking for her loving forever home.  
Every Wednesday at 8:10 Ken and I talk with Daryl Yankee from Animal Allies about the Pet of the Week and this week it's Daisy, an 2 year old, 69 pound dog that loves to run and play.   [more adoptable pets]
Daisy joined the Animal Allies family as a shelter transfer.  She shows her excitement and happiness by wiggling next to you as you are out playing or going for a walk.  One important thing you should know is that Daisy is deaf and that means her new owner will need to be patient when teaching her hand signals.  She will also need to be fenced or on a leash when outside.
She has been spayed, microchipped, and vaccinated. If you are interested in adoption, please visit Animal Allies at 4006 Airport Road or give us a call at 218-722-5341 for more information.
If you're looking for  Science Diet Jerky Treats they have them for sale at Animal Allies and if you go this weekend you can take part in the great Ducky adoption.  For a $5 donation you can adopt a rubber duckie on Saturday, April 1 from 12-6 pm.